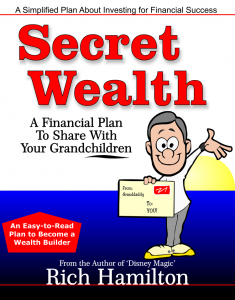 You Know How Most People Want to be Financially Independent But Life Seems to Get in the Way?
Would you rather be a Wealth Builder or a Debt Builder? In Secret Wealth, Rich Hamilton works with you to establish a Wealth Builder mindset and gives you a step-by-step investment plan to realize financial independence. Written as a personal letter to his grandchildren, you can learn the same methods Rich shared with loved ones to give them a head start toward abundant wealth.
In this book you will discover...
Why you need to be and can be worth at least 25 million dollars when you retire
Why you should keep your wealth a secret
Why you should always be looking for a job
The only way to build real wealth
How Social Security and your employer's 401-K are not enough
How the bank proves it is not your friend
Why you do not want or need a stock broker
Why investing in the Stock Market is legalized gambling
What to do when the market goes down
What's wrong with financial news programs on TV and Cable
What to do when you are asked to cosign someone's loan
How to make and read a Personal Balance Sheet
A simple step-by-step method for starting your investment program
What People are Saying About 'Secret Wealth'
"How to Think About Money"

More than just how to invest, you teach readers how to think about money, which I think is more important. And when they can see the role of money, they're more likely to invest.

– Bette Dowdell, former Vanguard representative
"Achieve Your Financial Success"

While Rich Hamilton suggests that his newest book is written for his grandchildren, don't let that premise mislead you. In this highly readable and content-rich work, the advice and counsel he offers is incredibly valuable for any and all readers. Coupled with tested and proven wealth-builders, are dozens of social skills and valuable tips and techniques for every day living. You'll readily see that "Secret Wealth" offers you a rich compendium of all the tools you'll ever need to achieve your financial success.

– Edward E. Scannell, CMP, CSP, Co-Author, 'Games Trainers Play' series
"Everyone Who Reads This Little Gem Will Benefit"

Rich Hamilton has saved this grandfather of five a lot of work. He has written a book that I am anxious to give to, and discuss with, each of my grandkids. His practical wisdom about building wealth is easy to understand and provides an excellent game plan for managing money. The stories and statistics shared throughout the book are both inspiring and motivating. Everyone who reads this little gem will benefit – not just grandchildren.

– Les Taylor, Performance Improvement Expert, Outperformers, Intl.
"Life's essential quest for joy, purpose, fulfillment and security"

Secret Wealth – accessibly written as a friendly, fun, letter from Grandpa – is a "must-read" guide... more than that: it is a wise, must-read answer – to life's essential quest for joy, purpose, fulfillment and security. Secret Wealth is an easy-to-read and easier-to-follow map for a wonderful life – written with love & care from a grandparent to grandchildren. The author, Rich Hamilton, comes though as knowing & caring... sound & dedicated... reasoned & devoted. Of special importance – to attract and assure young people's engagement, throughout the "letter," Grandpa Rich is respectful, not doting. This book is the letter every caring, responsible grandparent at one point or another contemplates writing to help grandchildren become (as Grandpa Rich says) "wealth-builders not debt-builders" – is a joy to read and a treasure for all ages. Help your grandchildren shape a successful life – get, and read with them, Secret Wealth... by the time they are our age... their gratitude will be unbounded.
– Grandpa Rick (Hubbard)
Rich Hamilton writes on business and marketing. A former broadcast executive, Rich consults and speaks on management skills and strategies that help create a productive corporate culture.